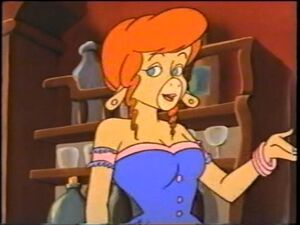 Lillian "Lily" Bovine is more than just a pretty face. She has a heart of gold and a kindness of an angel in addition to being unbearably beautiful. Miss Lily runs the Tumbleweed in Moo Mesa a drinking establishment where the C.O.W. Boys often go to unwind. She is well respected among the citizens of Moo Mesa and her generosity knows no bounds. Miss Lily will always spend whatever she has to help others in need. And she is also known as loving, instructive, level-headed, ladylike, inspirational, assertive, nurturing, confident, conscientious, laid-back, industrious, lion-hearted, polite, bold, organized, vivacious, intuitive, nice and encouraging.
Lily is the current love interest of Marshal Moo Montana. Ex. She kissed him on the cheek in "Dances with Bulls."
She's also Cody Calf's caretaker and relative. (Though he's not her son.) But she loves Cody with all her heart.
Lily almost lost her saloon when Mayor Bulloney telegramed her arch rival, Sadie Wowcow. Sadie almost drove Lily out of business had the C.O.WBoys not interviened.