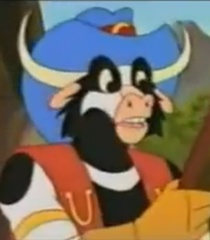 Cowlorado Kid
is the youngest member of the C.O.W.Boys. Because of his youth, Cowlorado can be impulsive and impatient. But he is just as brave and skilled as his two older compatriots. Cowlorado is the best in the Mesa with a lasso,(besides Cowlamity Kate.) and has rounded up many varmints.
Cowlorado is also a self-proclaimed ladies man, so any pretty heifer he likes, he'll try to impress. Even going as far as making up stories, just to make him seem more attractive.
The closest one to a love interest he has, is Sally Sue Holstein. She was seen in "A sheepful of dollars." And she was mentioned in Tales of the TMNT # 58.
And he is also known as trustworthy, heroic, extroverted, confident, optimistic, well-mannered, loving, organized, resourceful, athletic, daring, outgoing, kind, independent, dependable, courteous, observant, warm-hearted, loyal, open-minded, responsible, assertive, determined, outspoken, knowledgeable, imaginative and deferential.
External Links
Edit